I thank you God for this most amazing day, for the leaping greenly spirits of trees, and for the blue dream of sky and for everything which is natural, which is infinite, which is yes.
e.e. cummings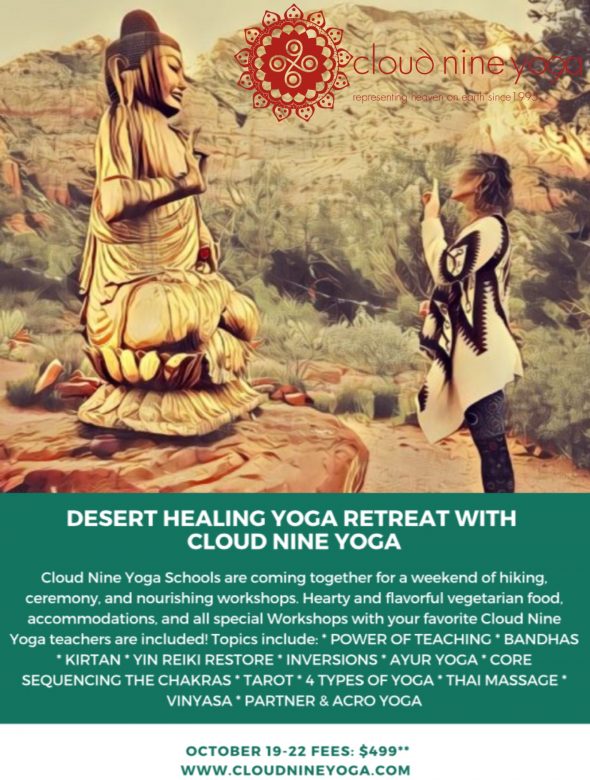 DESERT HEALING YOGA RETREAT with Cloud Nine Yoga
Cloud Nine Yoga Schools are coming together for a weekend of hiking, ceremony, and nourishing workshops. Hearty and flavorful vegetarian food, accommodations, and all special Workshops with your favorite Cloud Nine Yoga teachers are included! Topics include: * POWER OF TEACHING * BANDHAS * KIRTAN * YIN REIKI RESTORE * INVERSIONS * AYUR YOGA * CORE SEQUENCING THE CHAKRAS * TAROT * 4 TYPES OF YOGA * THAI MASSAGE * VINYASA * PARTNER & ACRO YOGA
SCHEDULE:
4:00 pm Thursday, October 19
Arrival, settling in, yoga practice, orientation, dinner, and opening circle.
Fri-Sat October 20-21
Morning Practice followed by brunch
Late Morning Session followed by siesta and free time
Late Afternoon session followed by supper
Evening sacred ceremony circle
Sunday, October 22
Morning Practice followed by brunch
Check out noon
Fees: $499**
Refund Policy: Due to the nature of this retreat, no refunds will be given. An account credit will be issued, less 25% up until October 15. After that, less 50% until the day before departure. No credits on or after the start of the retreat. ** Based on availability! Bring extra spending money for shopping and healing sessions. Private room/bath available for an additional nightly charge.
Register Online