Puerto Rico 200-hr In-Depth Yoga Training & Teacher Certification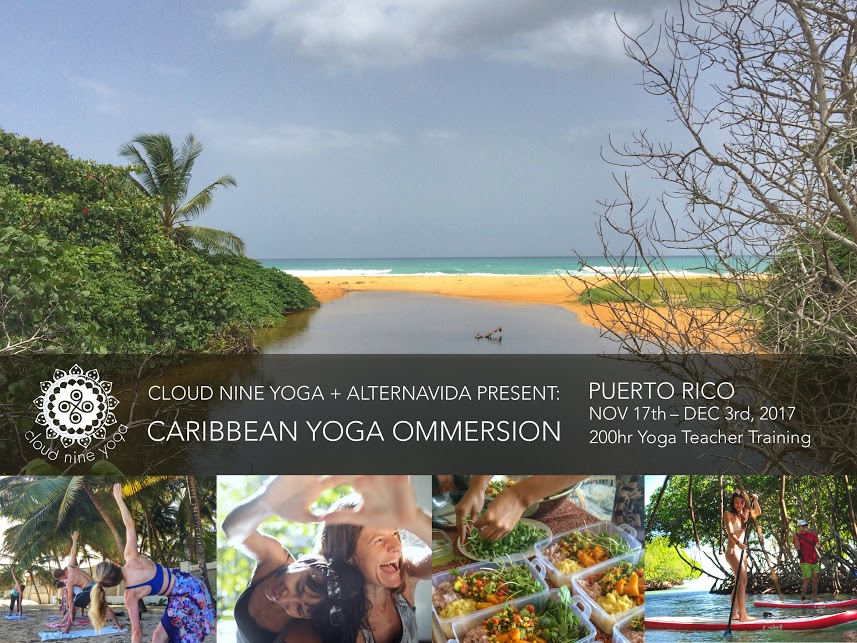 Ready yourself for a tropical transformation… in the spirit of the Caribbean!
Are you considering a certification course yet prefer to take a break from your everyday life and fully immerse yourself in the yogic lifestyle? This 16­day "eduvacation" will be filled with all things YOGA!
Join Crystal Rios, April Matulich, and Stella Tryon for an Ommersion in our Yoga Alliance Registered Cloud Nine Yoga 200 hr Certification course curriculum and experience what Lonely Planet calls the "paradise seekers pleasure dome," Puerto Rico.
Training days are filled with experiential yoga anatomy, yogic philosophy, posture breakdowns, and practice teaching. Experience local flavors and farm to table vegetarian meals. Our stay at Alternavida's Retreat House is located 5 minutes from the beach and 15 minutes from the only tropical rainforest in the U.S. The waterfalls and trails through this serpentine jungle is our back yard.
INCLUSIONS along with your yoga training:
Tropical Cuisine: 2 healthy hearty meals per day provided onsite
San Jose city tour of colorful Spanish Colonial Buildings
Visit 16th Century Citadel
Rainforest mud bath
Waterfall Forest Thrills
La Finca­ permaculture farm
Cave exploration
Bioluminescent canoe trip
Beach Living
Snorkeling
Travel Information:
Arrival for settling in and Welcome Refreshments Fri Nov 17th
Nov 18­ Dec 3 Yoga Training OMmersion
Departure Dec 4
Sample Daily Schedule:
7:30 am – 9:30 am Morning Practice
9:30 am – 11:00 am Blastoff Breakfast/Short Break
11:00 am – 1:00 pm Lotus Lecture
1:00 pm – 2:00 pm Light Lunch/ Snack
2:00 pm – 6:00 pm Anatomy, Asana Intensive, Practice Teaching
6:00 pm – 7:00 pm Divine Dinner
Pricing:
Includes: CLOUD NINE YOGA 200hr In­Depth Studies and Basic Yoga Teacher Certification Tuition, Airport Pickup/drop off from San Juan International Airport, Group Tours, Tropical cuisine, and Accommodations at Alternavida Retreat House.
Not included: Round trip Airfare, Required Course Materials (books), Off Site meals/ shopping, optional onsite services such as massage and surf lessons.
$4999 Private, Single (onsite bedroom at Alternavida Retreat House­ Private bath)
$4499 Double Occupancy (onsite shared room for two­ Shared bath)
$3499 Local or Stay off site (Breakfast and Lunch included)
Optional services $80 per session:
Massage, Reiki, Conscious Loving Coaching, Surf lessons
Books must be ordered/ purchased upon registration:
Donna Farhi's Yoga Mind Body Spirit BKS Iyengar's Light On Yoga Judith Lasseter's Yoga Body
To begin registration contact Crystal Rios 562­637­3763
Check out www.Alternavida.com for more details about the land where we will gather for Tropical Transformation!
Register Online