300-hr Advanced Yoga Training & Certification
June 13 – 28, 2018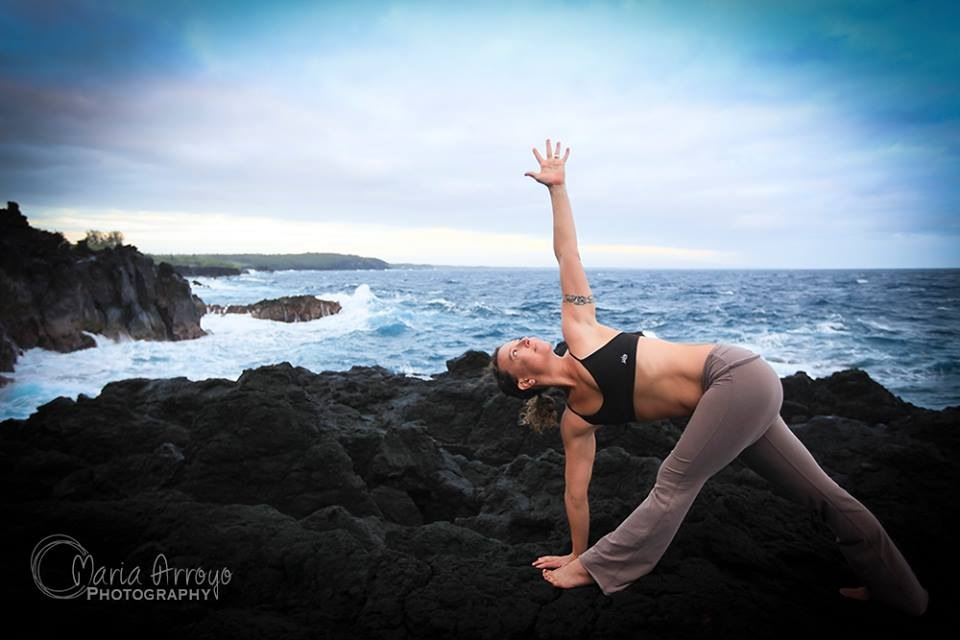 Stay and Play on the gorgeous Garden Island of Kauai at an exclusive location while you enhance your yoga skills and receive a transformational yoga training experience! This is a special certification with a focus on Yin Yoga, Art Meditations, Solar/Lunar Salutations, Somatic and Core Sequencing techniques, Tarot & Astrology for Yoga, and Tantric Yogini chant practices.
During our 14-day training, we create an epic community experience. We eat gourmet "flexitarian" cuisine, take day-long excursions, and integrate Yoga with various holistic healing modalities such as Ayurveda, Reiki, Aromatherapy, Vajrayana Buddhist Philosophy, and Lomi Lomi. Our very own Cloud Nine Yoga style is an eclectic blend of fun, flow-based yoga practices embracing all levels, bodies, and ages of yoga practitioners. Enjoy daily in-depth workshop style curriculum, peer teaching, and tropical outings. Our approach will sculpt you into a well-rounded, knowledgeable and confident instructor.
Let your practice and life become infused with ALOHA.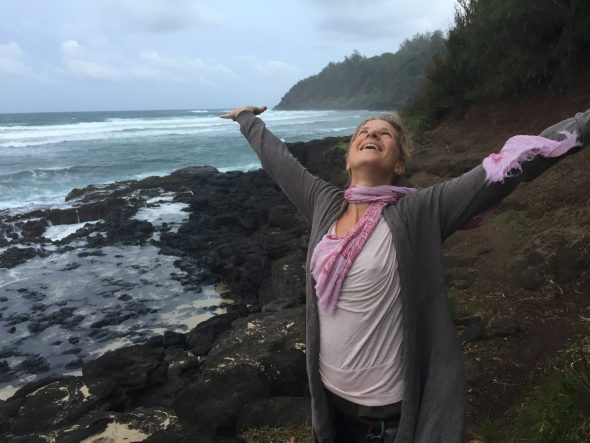 Imagine arriving on the island surrounded by amazing yogis from all over the world on pristine, sacred grounds with breathtaking views of Namahana Mountain Range. Tropical flora, fauna, and nearby water elements abound. Take a 10 minute hike to gorgeous natural forests and a longer walk along the local beach bays that are secret to most tourists.
Your main leader/facilitator is Erika Faith Calig E-RYT 500, (aka: Yogi Fairy Godmother) founder of Cloud Nine Yoga. She is joined by other incredible spiritual guides who will take you on a deep journey into yourself. Together our exploration into all of the beauty of yoga's many diverse practices will be truly enchanted by this exotic location.
Our Chef, Lawrence Goldberg, will create Hawaiian-style, fresh organic farm-to-table cuisine to nourish us throughout the training. Ready yourself for tropical transformation and ignite your internal fire through spiritual and physical cleansing.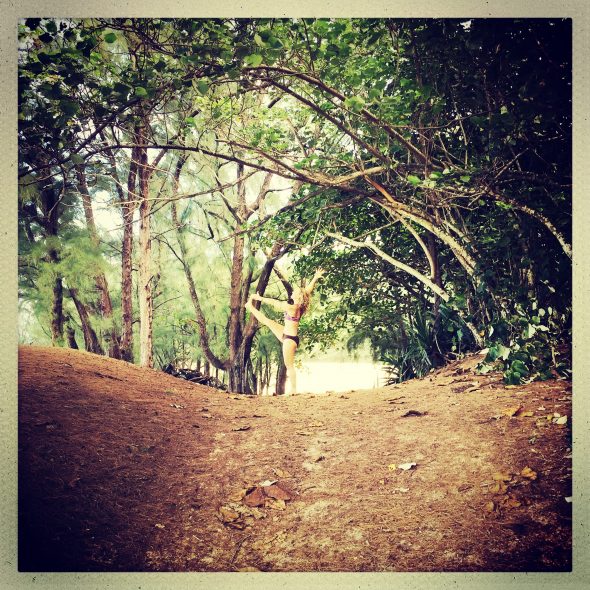 TRAINING SCHEDULE
June 13th: Arrive in Kauai at Lihui Airport by 4:00 pm. We will pick you up! Settle into your room with refreshments and be ready to have a beautiful welcome dinner and orientation with us at 6:00 pm
June 14th – 27th: Yoga Training OMmersion
June 28th: Depart premises by 12 noon
DAILY SCHEDULE (Sample)
7:30 am – 9:30 am Morning Yoga Practice
10:00 am – 11:00 am Brunch
11:30 am – 3:30 pm Core Curriculum Workshops
4:00 pm – 6:00 pm Walk, Beach, Rest, or Additional Yoga Practice
6:30 pm – 7:30 pm Divine Dinner
8:00 pm Evening Program / Events
See the full schedule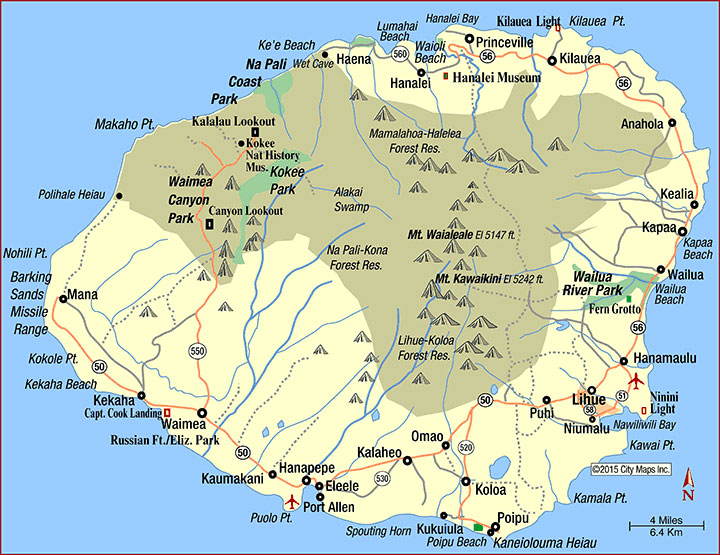 PRICING
$3499 shared dorm (3 – 4 beds)
$4299 double occupancy (2 beds)
$4999 private room (single)
What's Included:
Yoga Teacher Education (180 contact hours)
Airport pick-up and drop-off on arrival/departure days.
15 nights lodging (choose an option above).
Tropical Cuisine. Two chef prepared farm-to-table healthy meals provided onsite daily, with the exception of transition and excursion days, which you will be responsible for your own food.
Access to facility amenities.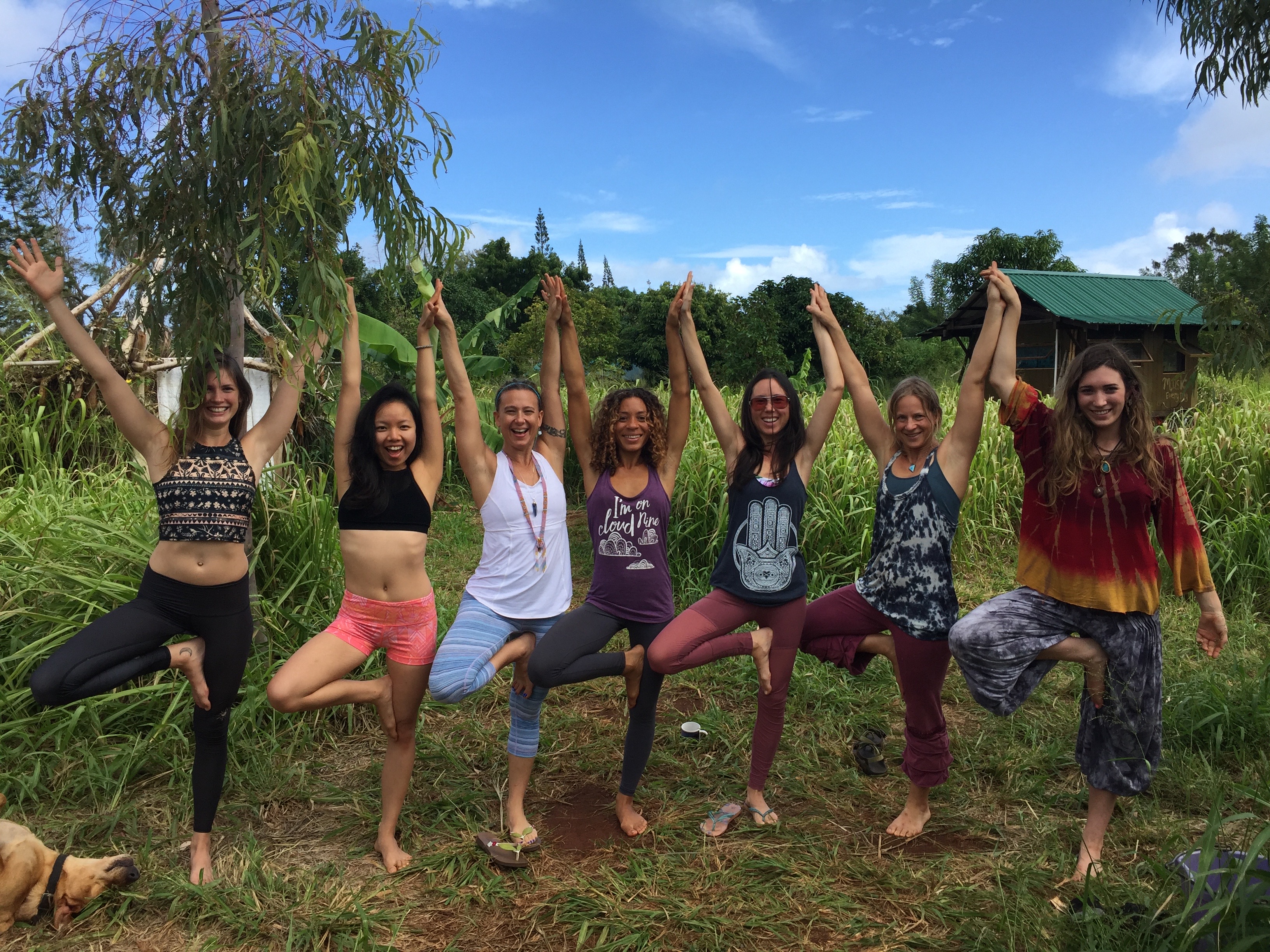 Group excursions and tours:
Rudrushka Forest and Hindu Monastery
Rafting / Canoe / SUP
Hanalei Bay
Farmer's Market
Lake hikes
Waterfalls
REGISTRATION & QUESTIONS
Please download Registration Form Kauai Cloud Nine Yoga 300-hr Training
Fill out the form entirely. If done online in the .pdf version, please submit to: erika@cloudnineyoga.com — Or if printed, send via post to: 28544 Old Town Front Street Ste 300, Temecula, CA 92590
Call Erika to request an invoice and begin making payments: 310-989-0878
All payments must be completed by May 12, 2018. Refunds/Cancellations after May 12 are not honored.
What's Not Included:
Round-trip Airfare to Lihue Airport.
Required Course Materials (books must be ordered/purchased upon registration)
Off-site meals and shopping
Optional onsite wellness services from certified body work therapists ($90 per hour)
Tips for service staff