Did you know that Cloud Nine Yoga has been an RYS (Registered Yoga School) with Yoga Alliance since 2002? That is RIGHT! We have over 25 years of specializing in one thing: Training Yoga Teachers. It has been our focus and we are known worldwide for it. Many studios and yoga schools have followed in our footsteps – and many others have consulted with us to build their curriculum based on our system.
Train with the founder of Cloud Nine Yoga School, Erika Faith Calig, E-RYT 500, in one of these upcoming Yoga Training Courses:
Colorado :: Retreat Immersion :: Yoga's Holistic Healing Practices: August 9 – 20, 2023 (held in Pagosa Springs, CO)
Kauai :: 200-hr Immersion Yoga Training & Certification: September 22 – October 8, 2023 (held in Hanalei, HI)
Big Island :: Retreat Training :: Chakras, Tantra & Yin Yoga Immersion: October 30 – November 9, 2023 (held in Hilo, HI)
California :: 200-hr Immersion Yoga Training & Certification: January 11 – 25, 2024 (held in Napa Valley, CA)
What is IMMERSION training? Come and stay in a beautiful destination like Hawaii or Colorado for 10-16 days and qualify for an RYT Yoga Alliance-approved certification! Wake up each morning to a Dynamic Yoga Class followed by an engaging lecture on the many expansive subjects of Yoga. You have a whole hour to take a rest and get yourself some brunch from a local food truck or restaurant. Then, we will meet again in the afternoon for some indoor teaching activities, posture breakdowns, anatomy lessons, and group yoga study. You are on your own again for dinner time and an evening of watching the sunset over the vineyards (Napa) or taking an evening dip in the ocean (Hawaii) or hot springs (Colorado). Group adventuring (such as hiking and/or other optional outdoor activities) will be sprinkled throughout our days together, learning, laughing, and resting. It is definitely a time and space to fill your cup until it runneth over! It's time to leave behind the routines of everyday life to focus on spiritual renewal, playful yoga practices, and deep and healing community vibes for lasting memories.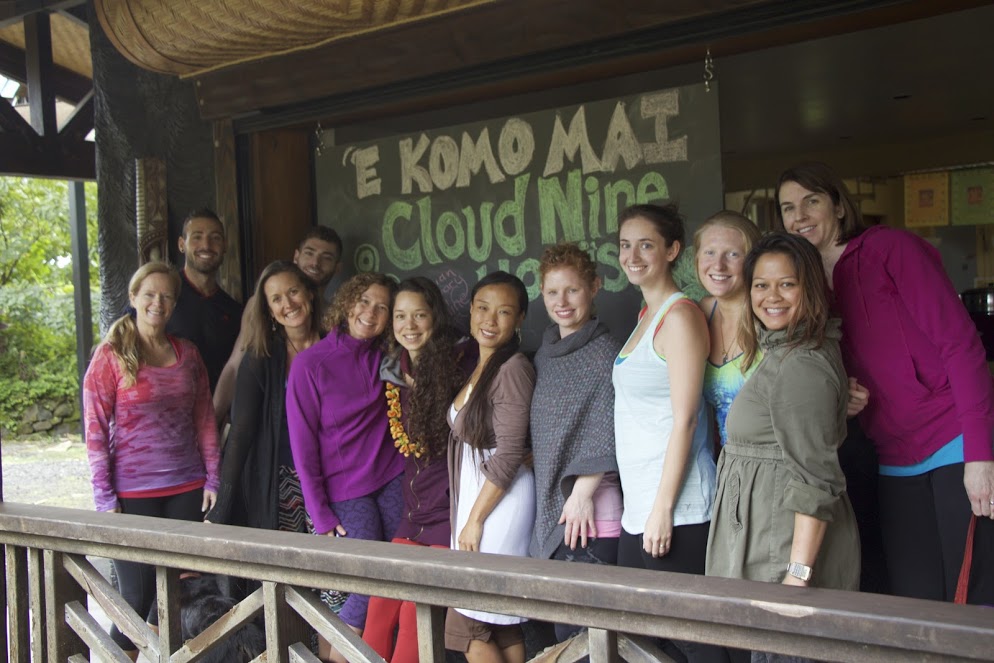 Fill out this FORM to get started.
Or email Erika: yogaoncloud9@gmail.com
Cost:
16-day California Immersion $5499 (tuition + room/board, private rooms only, 3 rooms left). Commuter rates: $2999 – 3499
10-day Colorado Immersions $4399 (tuition + room/board, private rooms only, 2 rooms left). Commuter/Upgrade rate: $1499
10-day Hawaii Immersion $4399 (tuition + room/board, private rooms only, 4 rooms left). Commuter/Upgrade rate: $1499
16-day Kauai Immersions $5499 – $6999 (tuition + room/board, 2 rooms left). Commuter rate: $2999 – 3499
Inclusions: Lodging, meals, ground transportation, training tuition, training manual, group activities, 140 recorded online practices, and certification upon completion of the course.
No need for lodging? Commuter / Locals Rates are available:
We offer a 10% Early bird discount when you pay in full 90 days or more in advance.
Are you an Online student upgrading to in-person training?
Attend our retreat for the cost of room and board only. If you already paid tuition fees, the upgrade is worth it!
QUESTIONS? 
Call or text Erika at 310-989-0878
READY TO BEGIN?