Become a Certified Yoga Teacher (RYT 200/300) through Cloud Nine Yoga School:
Aloha and Welcome to a Yoga School that has specialized in training Yoga Teachers for over 22 years.
Our humble beginnings started in California in 1999 and since then, Cloud Nine Yoga has developed an incredibly diverse, holistic, and accessible 200-hour and a 300-hour Yoga Teacher Certification Courses, as well as Pre/Post Natal Yoga & Children's Yoga Certification, and curriculum that extends into Trauma-sensitive practices, yogic philosophy, Ayurveda, and Yin/Restorative Yoga.
We have been Registered with Yoga Alliance since 2002 and have the professionalism, longevity, and accountability that make us a highly respected and credible community organization. Every trainer has an E-RYT 500 teaching designation and a minimum 10 years experience in the field of Yoga. The founder and lead educator, Erika Faith Calig, has taught for over 26 years. She built the School with an emphasis on recognizing diverse learning styles so every student can feel supported and empowered. Curriculum for all courses blend academics with intuition, playfulness with methodology, practicum with heart-felt encouragement.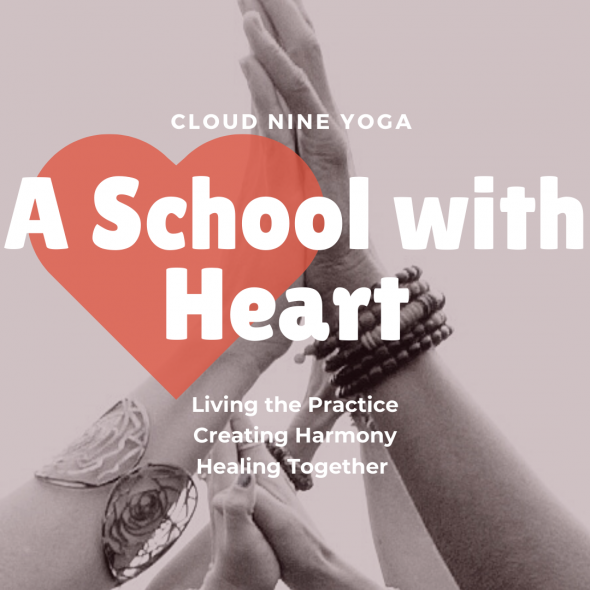 The trainers and support staff take pride in bringing a high quality education to our students. With a focus on Yoga for Mental Health, we teach 'permission-based' Yoga — meaning: all practitioners are intiated into movement through alignment cues and invitational language. Practitioners are given tools and a variety of options to adapt the practice to their own body, mood, and conditions. We bring the practice of Yoga down-to-earth and help weave the teachings into all aspects of life.
We teach Hatha Yoga, which is an umbrella term for ALL Yoga styles that link Asana, Pranayama, and Dhyana (postures, breath, meditation). We don't want to live in a box, so we call it "the fun kind of yoga" – the type of Yoga where people laugh, learn, integrate, and grow.
What matters most to us? Authenticity, peace, and kindness. We strive to find bliss, joy, and meaning in all we do. We care about people more than poses. We honor the Earth and all her creatures. We know that we are in collaborative creation with all Life. So, we promote sharing and caring in every way. Our students become family and we offer generous opportunities for spiritual development and a conscious lifestyle combined with promoting healthy respect for our planet's resources.
Our School is in-person and virtual, hybrid, and traditional. We flex our creativity by providing students with a wide range of learning environments. You can come to an immersion in Kauai, find a school in a location near you, learn in real-time online through Zoom, or acquire certification through a powerful self-paced course on our savvy Online platform. No matter what you choose, we are with you, every step of the way. You are not a number or a dollar sign — you are a person and we are invested in your education.
Mahalo Nui Loa for reading about Cloud Nine Yoga School.
For 2021, most our Courses have moved ONLINE. Please visit us at: online.cloudnineyoga.com
If you are interested in a Deep, Healing dive into Hatha yoga, Yin yoga, Vinyasa flow, Yoga Philosophy, Ayurveda, and more… YOU HAVE FOUND THE RIGHT PLACE! We provide workshop-style classes, in-depth study courses, local and international retreats.
Erika Faith and her community of talented yoginis have been training yoga teachers since 1999. Cloud Nine Yoga has been registered a Registered Yoga School with Yoga Alliance since 2002 and operating since 1999. She has created a safe haven for students of all levels, ages and abilities to learn how to share the benefits of yoga. This phenomenal woman has a presence that lights up a room. She makes people laugh and has the power to help shift a person's inner dialogue. A great many teachers emulate the grace, playfulness and sangha that Erika brings to this world.