Cloud Nine Yoga Advanced Teacher Certification and
300 hr Certification with Cloud Nine Yoga / RYT500 with Yoga Alliance
Our 300-hr Advanced Yoga Training is designed to bring you to "Master Your Practice, Advance Your Teaching."
ON SALE NOW THROUGH SEPTEMBER 2021: 300 RYT ONLINE ADVANCED YOGA CERTIFICATION. Save over $1000 on the entire training. Click HERE to start.
300 RYT ADVANCED YOGA CERTIFICATION – LIVE & IN PERSON IN KAUAI – Part 1: October 7 – 16, 2021 & Part 2: June 9 – 30, 2022. Learn more about this awesome opportunity.
All six of our 300 RYT Training Modules can be taken virtually with weekly Mentoring included in your tuition: https://online.cloudnineyoga.com 
Pre-requisite: Completion of any 200 level yoga training program.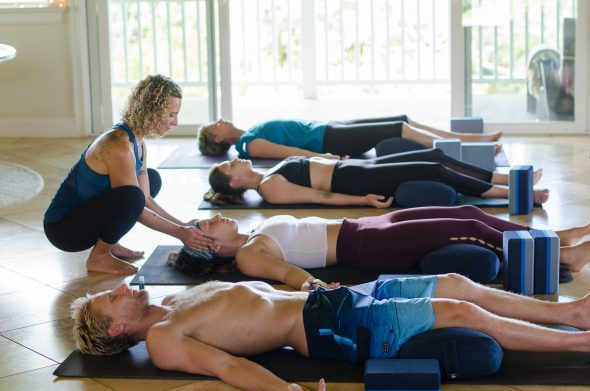 We are honored to host some of the most respected and influential teachers as esteemed faculty and guest teachers.
To complete your 300-hr Advanced Yoga Teacher Training with Cloud Nine Yoga:
Graduate from a 200-hr RYT Program
Take our 300-hr Advanced Yoga Course (6 modules of Training with approximately 240 contact hours + 60 hrs of study, mentorship, peer teaching, and homework assignments)
P.S. If you want your RYT 500 through Yoga Alliance, Yoga Alliance will ask you to complete a profile, upload your certificate from Cloud Nine Yoga and log 100 hours teaching your own classes, post your 300-hr Certification
If you take the Online Course, it is split into two sections – Modules 1 – 3 & Modules 4 – 6.
Want to travel and study with Erika in person on the island of Kauai? Take the Immersion course
300 HOUR BREAKDOWN
240 hours +++ (CONTACT) of workshops and lectures with CNY E-RY trainers, teachers, and guest faculty from all over the world. Our online format is exactly like our in-person format! We teach in real time via Zoom.
60 hours +++ (CONTACT & Non-Contact) of internships, mentorships, peer teaching, and homework assignments. Our online program provides opportunities to complete these hours in real time, with mentor teachers and peer groups.
100 hours +++ (extra Yoga Alliance requirement for RYT 500) after receiving your 300 hr Yoga Teacher Training Certification from Cloud Nine Yoga, to receive your RYT 500, you must teach and log 100 hours of teaching classes of your own.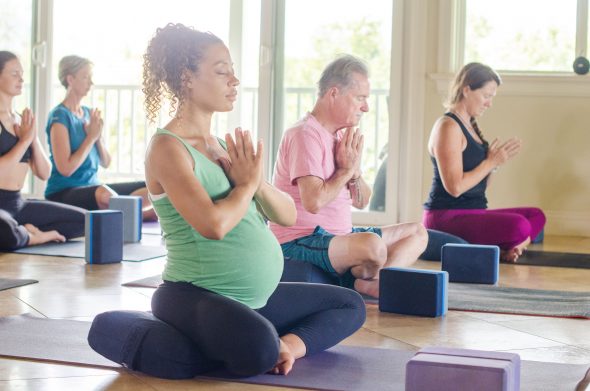 TOPICS
Modules 1 – 3: Ayurveda, Yoga Nidra, Chakra & Energy Body Anatomy, Planning Classes, Designing a Workshop, Patanjali's Yoga Sutras Study, Radiance Sutras (Vijnana Bhairava Tantra), Yin Yoga & Meditation, The Power of Teaching, YogaPlay for Kids, Mantra/Kirtan, Pre/Post Natal Yoga, Adaptive Yoga, Psychology of Yoga, Service/Trauma Sensitive Yoga, Art Meditations, and much MORE!
Modules 4 – 6: Vedic Wisdom, Yoga Sutras of Patanjali, Decompression Techniques for the Body, Ayurveda & Yoga, Acupessure in Yoga, Tantric Studies, Mudras & Mantras, Progressive Meditations, Functional Anatomy, Creative Vinyasas, Self-Massage, and much MORE!
TUITION
*Fully Online* 300-hr Advanced Yoga Training & Certification: $2900
We offer In-Person Advanced Yoga Teacher Training on Kauai in 2 Parts (two 10-day courses): $3800
A hybrid version of our 300 RYT Course can be done also by attending a 10-day training in person + the other half of the training online: $3350
When coming to Kauai for an Immersion, you are responsible for your transportation, lodging, and food.
APPLICATIONS ACCEPTED ALL YEAR.
EDU-VACATIONS in KAUAI
Cloud Nine Yoga Edu-vacation Trainings and Certifications offer a variety of experiences and workshops that build into the 300 hr requirements. Imagine what 20 days in the islands can do for you!
"I've been doing yoga off and on for many years until I found a studio with teachers that were truly amazing; then I started going twice a day, daily. I wondered what made these teachers so enticing for me to become a yoga regular.  I discovered that what they had in common was Cloud Nine Yoga training. At the time I discovered this studio, I had no intention on becoming yoga certified. I've been a Certified Personal Trainer for 20 years and I'm certified in NASM, Pilates, Gyrotonic, Spin, Adventure Bootcamp, Reiki, and now Cloud Nine Yoga. When I found the teachers that I loved, they just had a way of teaching that I have never experienced before. The teachers have an organized class with a beginning and end and a principle weaved throughout the class. I decided I wanted to teach yoga like that… so I looked at the Cloud Nine Website and found Erika who runs a training in Kauai.

Life works in amazing ways because I happened to be taking my family vacation in Kauai at the same time the training was starting. So, I stayed a month. My daughter and I did the training together which was a life changing experience in itself.  Cloud Nine training is a brilliant training created by Erika Faith with structure, philosophy, asana, meditation, and much more. We are taught the little things that make clients want to keep coming back to you. But what it did for me is brought out my passion and filled our hearts. That is what makes Cloud Nine training one of a kind."

– Kristi Goldstein, 2019
Kauai is a magical, mystical backdrop for our transformational Yoga Training and Teacher Certification Edu-vacation courses. Blessed by azure blue waters, majestic mountain ranges haloed in mist, miles of sandy beaches, and powerful hikes to waterfalls… Kauai truly has it all. Along with amazing guest teachers and outdoor classrooms, Erika brings 25+ years of teaching experience. Her approach is born out of a passion for bringing Yoga down to Earth while still keeping the traditions intact.
NEXT 10-day ADVANCED YOGA CERTIFICATION will be held in OCTOBER 7 – 16, 2021 (Part 1 – Modules 1, 2, 3)

Contact us for further info: 310-989-0878