In-Depth Yoga Study & Teacher Certification (RYT 200)
Cloud Nine Yoga is a Yoga Alliance Registered School since 2002. We have been training yoga teachers and offering certification courses since 1999.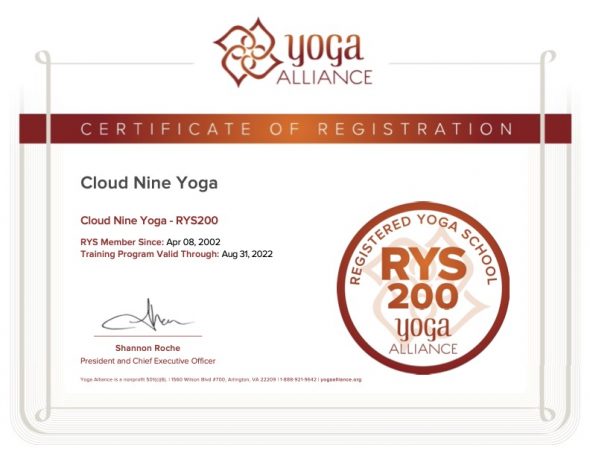 We currently offer Online Yoga Training and Certification Courses, which are fully self-paced through our platform at: online.cloudnineyoga.com
November 16 – 30, 2021 is our next Kauai 200-hr Yoga Training & Certification Immersion. Learn more at our Edu-vacation Link or start the registration process HERE.
Our school prides itself in being a permission-based, non-dogmatic Hatha Yoga Educational Organization. We have a long history of training Yoga Teachers who are teaching accessible, meditative Asana classes, seeped in the practices of inquiry and heart centered awareness. Our Trainers work together to promote and inspire growth, healing and transformation for every student. Our playfulness, gentle guidance, and spiritually-focused approach provide a welcome and loving atmosphere for all ages and levels of students.
Online Certification Courses are on-going. You can sign up at this link. We have rolling admissions and welcome new students into our virtual sessions via Zoom throughout the year. You can dive in as soon as you are inspired to start. All self-paced students are personally mentored weekly by Erika in small group sessions. You will feel held and supported throughout the entire certification process!
We also have Continuing Education Workshops and a huge collection of awesome Guided Yoga Classes available for purchase. What do you want to learn? See your options at: https://online.cloudnineyoga.com 
See our SCHOOLS PAGE to find a Cloud Nine Yoga location near you!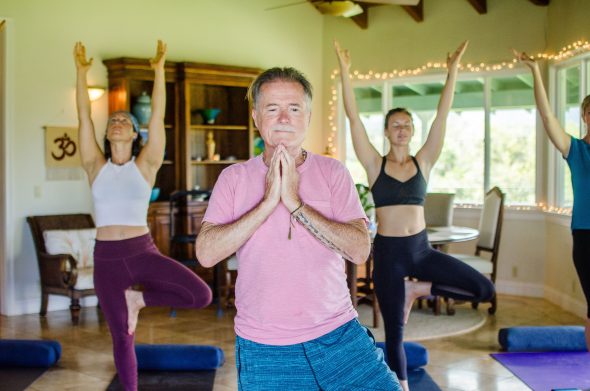 R.Y.T 200 Level Program Breakdown:
180 Contact Hours + 20 Non-Contact Hours
Asana Intensives
Lectures
Anatomy
Peer Teaching
Yoga Practice Classes
Weekly Mentor Hour Participation
Homework, Seva, Studies and Research
Subjects Covered:
Yoga Anatomy and Physiology, Applied Teaching Methodology and Practice, Sequencing, Yoga History & Philosophy, Yogic Living/Nutrition, Ethical Guidelines, Sanskrit, Asana Benefits & Contraindications, Cuing, Vocal & Hands-on Adjustments, Partner Work, Thai Yoga Massage, Patanjali's Yoga Sutras, Bhagavad Gita, Dieties & Avatars, Understanding the Importance of the Guru, The Schools of Yoga, Chakras & Psychology of Yoga, Mudra & Mantra, Bandhas & Kriyas, Ayurveda, The Business of Yoga: Professional Info for the Yoga Teacher, Yoga for Seniors & Motion Restriction (Chair Yoga), Intro to Pre Natal Yoga, Yoga for Kids, The Seven Moving Principles AND all the Asana Breakdowns for teaching all levels of students (Sun Salutations, Forward Bends, Back Bends, Inversions, Core Strengthening, Balancing & Standing Postures, Hip & Heart Openers).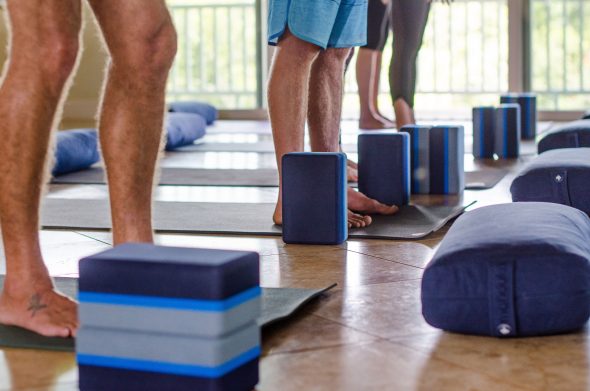 Cost of training:
Online Self-Paced 200-hr RYT Certification course: $1450
In-Person Yoga Training & Certification Tuition: $3000
Additional costs:
Books, Yoga Props, and a Writing Journal or Notebook