300-hr Kauai Advanced Yoga Training and Certification
June 6 – 27, 2019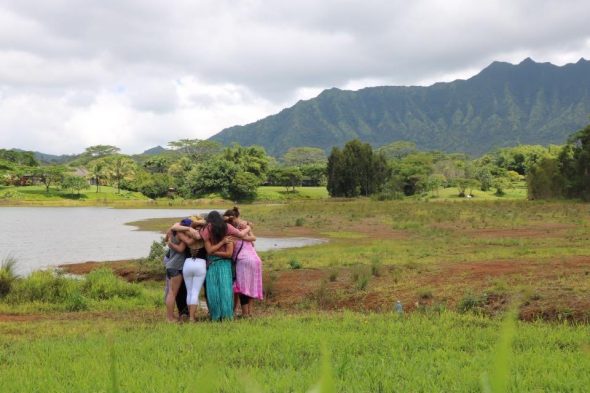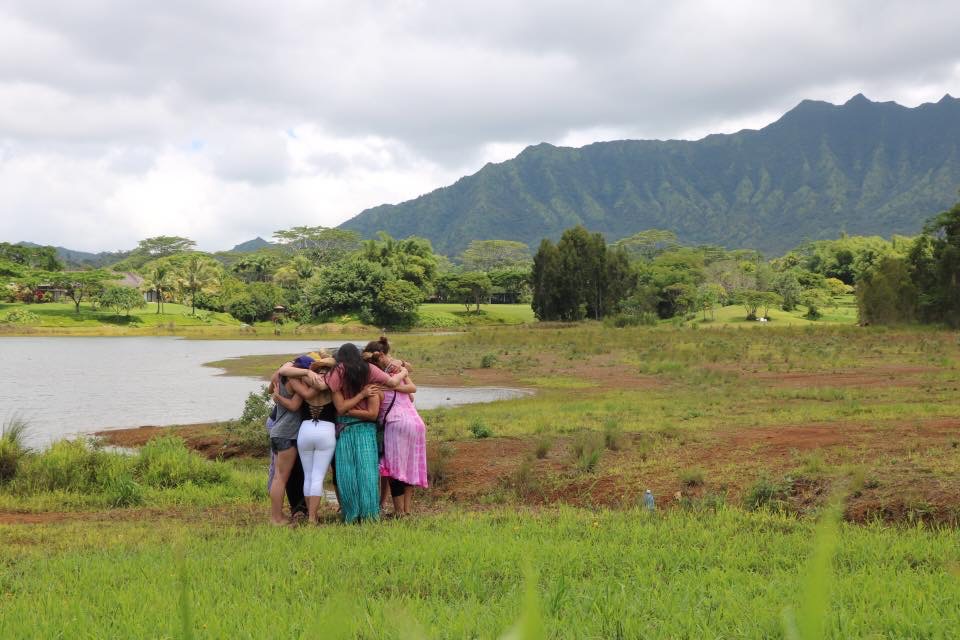 Can you imagine a 3-week Education Vacation in Hawaii?
Stay and Play on the gorgeous Garden Island of Kaua'i at an exclusive location while you enhance your yoga skills and receive a transformational yoga training experience! This is a special opportunity to focus on an integrative approach to yoga as a therapeutic model for self-alignment in the Body-Mind-Heart. Soulful Hatha Yoga is combined with Structural Anatomy, Yin Yoga, Art Meditations, Solar/Lunar Salutations, Sequencing techniques, Tarot & Astrology for Yoga, and Tantric practices for everyday ecstasy. Join Erika Faith Calig and Trinity Capili as they take you on a playful, soaring journey into the elemental functions of the body along with the inspiration of the mystical wonders of esoteric traditions.
"We are Great Spirit in the physical form of human bodies, extraordinary vessels for healing. This experiential curriculum is an integration of self study (Svadhyaya) with movement,  integrating the teachings of Dr. Linda Lack and her technique, The Thinking Body and the Feeling Mind, with the Cloud Nine Yoga philosophy of universe as resource, power of community, and recognizing heaven on earth, held in each moment HERE and NOW. This [training] is designed as reeducation for the whole body, integrating moving principles, the energetic knowledge we hold thus far, and a refresher of the mechanics of the human form.  Discussion and journaling is highly encouraged.  We're bringing everything into the melting pot when it comes to the art of existence: mystical forces, scientific knowledge, and most importantly personal experience.  We are part of the evolution of humanity; let's take ownership of every fiber of our being in order to lead meaningful lives that brings us back to our sovereignty." – Trinity Capili, Cloud Nine Yoga, Senior Faculty and Mentor Teacher
During our DIVINE 22-day training, we create an epic community experience. We eat healthy meals, take day-long excursions, and integrate Yoga with various holistic healing modalities such as Ayurveda, Reiki, Aromatherapy, Hatha Yoga, and the Vijnana Bhairava Tantra. Our very own Cloud Nine Yoga style is an eclectic blend of fun, flow-based yoga practices embracing all levels, bodies, and ages of yoga practitioners. Enjoy daily in-depth workshop style curriculum, peer teaching, and tropical outings. Our approach will sculpt you into a well-rounded, knowledgeable and confident instructor.
Let your practice and life become infused with ALOHA.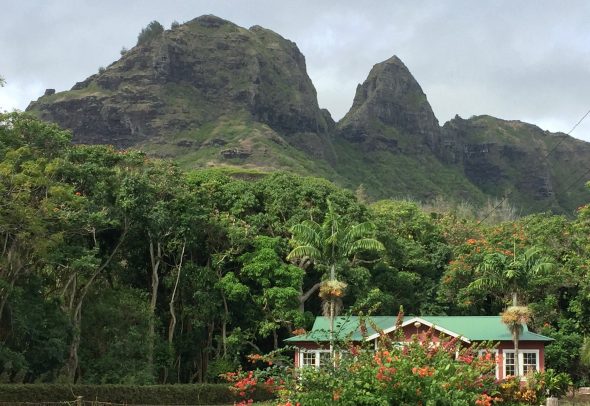 Imagine arriving on the island surrounded by amazing yogis from all over the world on pristine, sacred grounds with breathtaking views. Tropical flora, fauna, and nearby water elements abound. Take a hike to gorgeous natural forests, waterfalls, beaches, and bays that are secret to most tourists.
Your main leader and facilitator is Erika Faith Calig E-RYT 500, (aka: Yogi Fairy Godmother) founder of Cloud Nine Yoga. Erika is joined by her incredible support team who will take you on an exploration into all of the beauty of yoga's many diverse practices — truly enchanted by this exotic location.
"Within my reach – and yours – is the good within our heart and soul. I live and breathe not just for me, but for all the humans that orbit along with me. As we meditate, or pray, we become more intimate with the powerful, creative force within us and around us. It is felt deep within our innermost Universe of the body-mind-spirit and it is intimately reflected outward in the expanse of the earth-universe-electromagnetic fields. As above, so below. Conscious awareness brings equal amounts of vulnerability and strength that we can draw upon to 1.) care for the individual self (the matter that makes up this organism of me) and 2.) radically nourish our own consciousness (the mental/emotional/spiritual energies that make manifest personal reality). The stuff that makes stars, galaxies, and black holes — it also creates, animates, and sustains (or destroys) us. So we must work with it. Be in co-creation with the forces of the imminent cycles of Life-Death-Rebirth." – Erika Faith, Founder & Curator of Cloud Nine Yoga School
For your nourishment, there will be smoothies, cereals with nut milks, yogurt, fruit, breads with nut butter and/or jams for after our morning yoga practice. A vegan chef creates dinners made with love to supply us with clean fuel throughout the training. Ready yourself for tropical transformation and ignite your internal fire through spiritual and physical cleansing.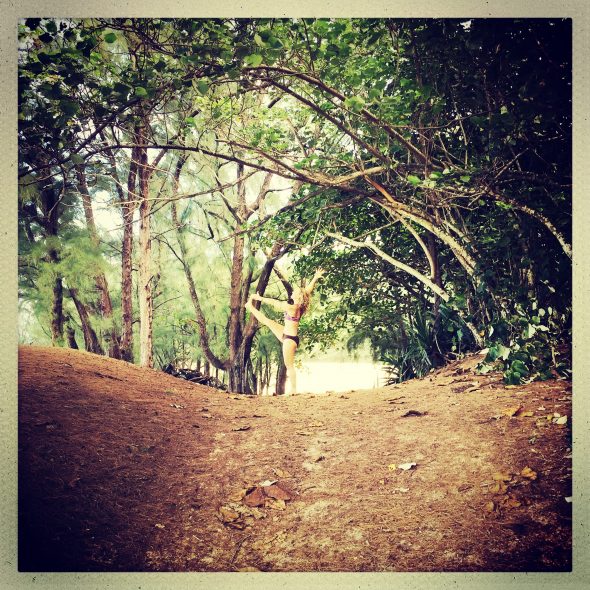 TRAINING SCHEDULE SAMPLE
7:30 am – 9:30 am Morning Yoga Practice
10:00 am – 11:00 am Brunch
11:30 am – 5:30 pm Core Curriculum Workshops
6:00 pm – 7:00 pm Divine Dinner
7:30 pm – 9:30 pm Evening Program / Events
Call or Email Erika for full schedule: 310-989-0878 or erika@cloudnineyoga.com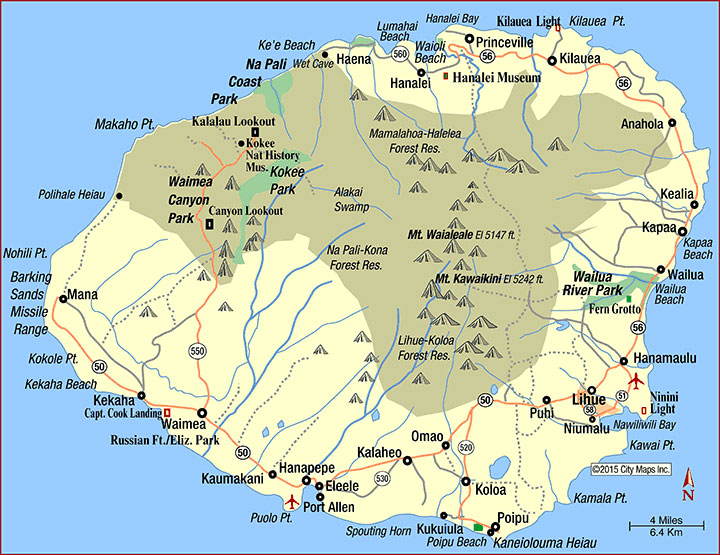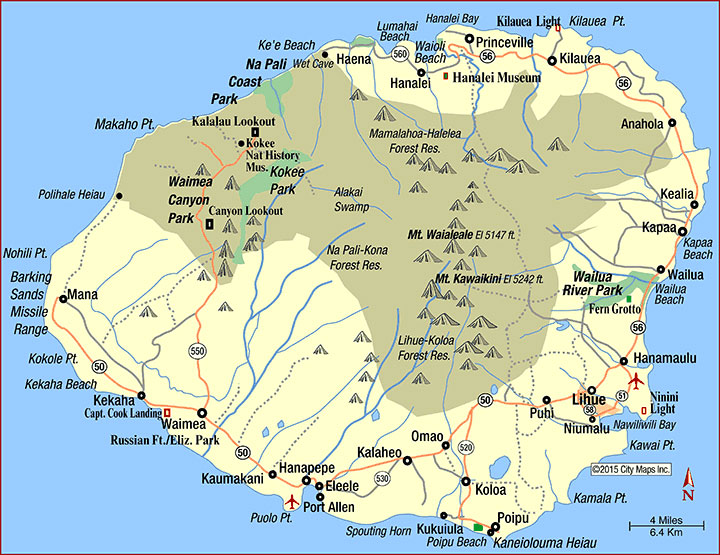 June 2019: Tuition 
$3799 Kama'aina (includes meals, but no housing or transportation)
What's Included:
Yoga Teacher Education (180 contact hours)
Locally Sourced Cuisine. Two healthy meals provided onsite daily, with the exception of transition and excursion days, which you will be responsible for your own food.
Access to facility amenities.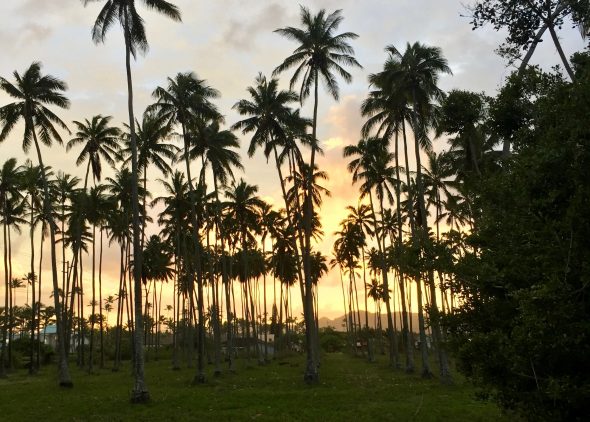 Group excursions:
Rudrushka Forest and Hindu Monastery
Farmer's Markets
Hiking
Waterfalls
Beaches
Hula Dance Class
REGISTRATION & QUESTIONS
Request an Application/Registration form by calling 310-989-0878.
Fill out the form entirely. If done online in the .pdf version, please submit to: erika@cloudnineyoga.com
Call Erika to request an invoice and begin making payments: 310-989-0878
We have a Strict Cancellation Policy. Refund is 50% of payment, no exceptions. Due to the nature of the retreat travel, reservation arrangements, and high-demand/limited space bookings, we cannot offer full refunds.
What's Not Included:
Transportation or Housing
Required Course Materials (books must be ordered/purchased upon registration).
Off-site meals and shopping.
Optional specialty tours such as Luau, Horseback riding or Na Pali Boat excursions
Optional wellness services from certified body work therapists, including traditional Hawaiian lomilomi bodywork:
Tips for service staff.