Most students of Yoga, at some point or another, find that they want to delve deeper into the philosophical aspects of the practice. There is endless material on the subject, including the History of Yoga as it came from India, Sanskrit, Yoga Sutras of Patanjali, Yamas & Niyamas, Meditation and Pranayama techniques, Energy Body and the Chakra System, Yogi Nutrition & Kriyas, Psychology of Yoga Therapy, Ayurveda, the Yoga of Communication, and Hinduism.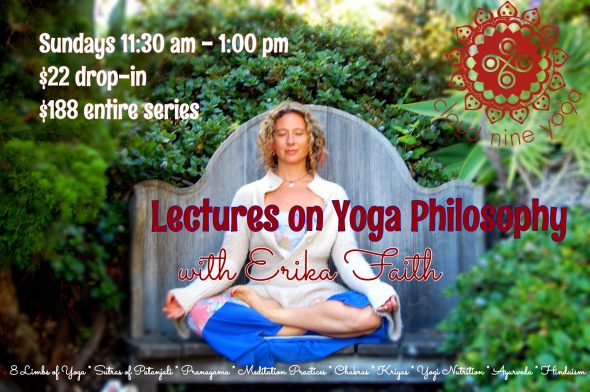 Thankfully, founder and Director of Cloud Nine Yoga School, Erika Faith Calig, has brought all the subjects together so that one could understand these fundamental operating forces that fuel the power of Yoga and create a multi-dimentional experience.
Join us on Sundays, from February 26 – May 14 from 11:30 am – 1:00 pm  for the Yoga Philosophy Series — come to one or all 10 (no meetings on March 26 or April 12).
SUNDAYS
11:30 am – 1:00 pm
$22 drop-in
$188 for the entire series
Lecture Series on Yoga (Schedule of Topics)
Drop-in please pre-register at least a couple days in advance, if possible, so notes can be provided.
Please register at the studio front desk or call Adam (951) 676-2206 between 9am – 12n M-Th to join.
Erika is also available to confirm your participation. Her cell is (310) 989-0878