Costa Rica Thanksgiving Yoga & Surf Retreat (November 18 – December 2, 2015)
April 8, 2013 Retreats,Retreats 10-14 Days,Retreats 10-21 Days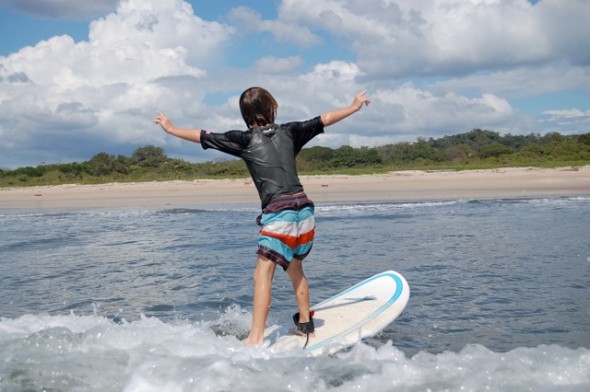 Costa Rica – The Art & Practice of the Yoga of Gratitude
November 18 – December 2, 2015
a Yoga, Art & Surfing Vacation (ON CLOUD NINE!) with Erika Faith Calig & family, PLUS Special Guests!
Beautiful ocean views, jungle living and rest await you at our favorite oasis! We'll experience daily yoga, beach time, restfulness and rejuvenation ~ a magical feeling away from the craziness of civilization. Iguanas, coatis, howler monkeys and colorful birds are a common sight. Sunrises and sunsets from our private villa are beyond stunning. A short walk away is Playa Pelada: a quiet, beautiful beach with tidepools and serene views of the sunset. Just a few miles south: Playa Guionnes, a lively beach for shell shopping, horseback riding, sand play, long walks and (for the surfers, boogie boarders and body surfing fans) the most consistent well-formed waves in Costa Rica. Also nearby: zip lining adventures, quad rentals (miles of dirt roads to explore), kayaking & SUP (Stand Up Paddling) on the river plus plenty of local artistic flavor. Every year we have also been lucky enough to enjoy the sea turtles, either hatching or watching the mamas laying their eggs at Playa Ostinal. There are always opportunities to experience miracles on our retreat! Our site and schedule is full of WOW!
Shared rooms ($1995 per person) or Private Room ($2995), includes two healthy meals daily AND daily classes as well as use of the villa pool, honor bar, common areas and all the hammock relaxing you can possibly enjoy. This getaway is the best way to experience the land and waters of Costa Rica. Kids are welcome!!! Only $695 for children 12 and under with each paid adult. Child watching is included during yoga classes. Airfare and ground transportation not included. Prices also include Zipline tour or Horseback Adventure, Board Rental, and Art Supplies. Reserve your space with a non-refundable $500 deposit: Cloud Nine Payment Link
SPECIAL Family room for 4 with extra large QQ room pricing: $4995 (family – together).
SPECIAL Private room with beautiful ocean view pricing: $2995 (private – single).
SPECIAL Couples room with jungle views & private hammock: $3995 (couple – double).

Call Erika for more information at: 310-989-0878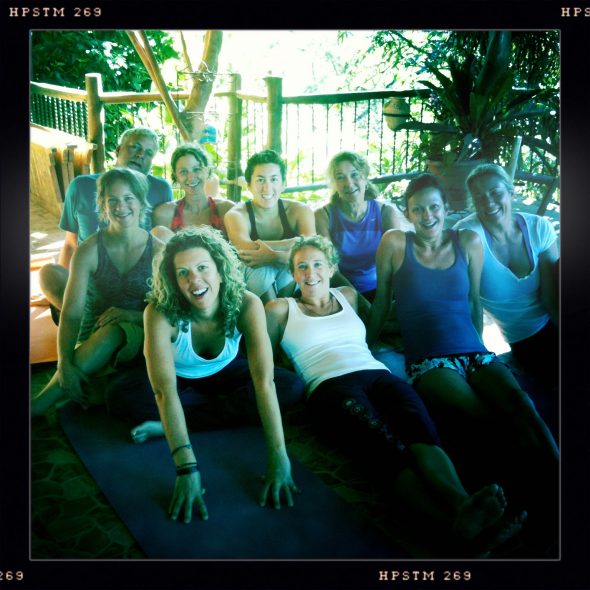 Facilitated by: Erika & Adam Calig with Special Guests!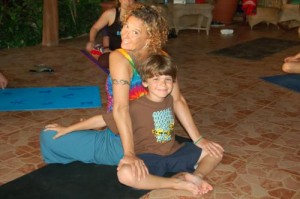 Erika Faith Calig is the founder and CEO of Cloud Nine Yoga. With 19 years of teaching experience, she has facilitated over 5000 students in the sacred practice of yoga and trained hundreds of teachers world-wide. Her playful, yet grounded style assists others to view life with down-to-earth lightness. Erika anchors her students in deep inquiry, encouraging them to look for the "medicine" in every experience. Erika values the use of inspirational poetry, uplifting music and aromatherapy to entice a sense of holiness to all her classes.
This picture was taken at Villa Mango, our "home away from home" in Costa Rica, where we will be staying. Pictured right, in partner yoga with his auntie, is Logan Zaks. We are proud to make these yoga vacations fit for all ages and friendly for families with kids. Our morning yoga classes and afternoon meditations are for Big Kids Only (there are activities for those 12 and under on site with our favorite child-sitters!).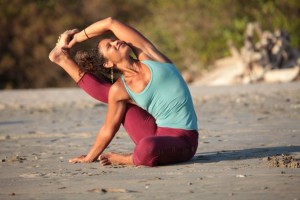 Athena Engelman
Athena Engelman is an E-RYT 500 Certified Yoga Instructor and Director of Teacher Trainings as well as a Pilates Instructor and Retreat Facilitator.  Athena loves creative expression and uses different genres of music to create a theme while having a truly unique experience. She has a playful approach and enjoys teaching a class that integrates many styles and grace of yoga as well the strength and fearlessness of Pilates.  So many parts of our lives are serious…why not take time to be a kid again! Athena recently moved her home base to Nosara, Costa Rica and is excited to share her love of yoga and Pilates and encourages practitioners to listen, honor and respect their bodies and the beauty that comes from the divine within. For more information on Athena please visit: www.liveyouryoga.org