Welcome to beautiful Pagosa Springs, Colorado ~
Here you'll find everything you need to know to attend the next Nature & Yoga Retreat with Erika Faith, E-RYT 500
Next up: 10-day Immersion August 9 – 20, 2023
Imagine yourself on an Educational Yoga Vacation in the glorious mountains of the hot springs town of Pagosa Springs, CO!
This is a special opportunity for serious yoga students, teachers, and healthcare professionals to focus on an integrative approach to Yoga. We teach a therapeutic model for self-alignment in the Body-Mind-Heart. Soulful Hatha Yoga is combined with Structural and Subtle Body Anatomy, Acupressure, Mudra, and Yoga Sutra philosophy for everyday embodiment. We take you on a playful, soaring journey into the elemental functions of the body along with the inspiration of the Yogic philosophies and traditions. This training specifically includes rich experiences in Acu-Yoga, Yin-Restore, Nature Meditations, Sound Healing, and Aqua Yoga along with time for self-reflection.
During this divine soak in Yogic Healing Techniques, we create an epic community experience. Outside our curriculum, there is time to meander and enjoy the dense forest, local hot springs, and whatever your heart desires. There is spaciousness to be you; to be free and at ease. No over-scheduling. Just lots of space for laughter medicine, rest, and pleasure.
SAMPLE SCHEDULE:
9:00 am – 12:00 pm Yoga Energetics Practice, Acu-Yoga & Mudras
12:00 pm – 4:00 pm Lunch & Free time
4:00 pm – 6:00 pm Yoga Therapeutics Practice, Yoga Philosophy Study Group
6:00 – 10:00 pm Dinner, Read, Rest, Explore, Soak
Call or Email Erika to get started on registration: 310-989-0878 or yogaoncloud9@gmail.com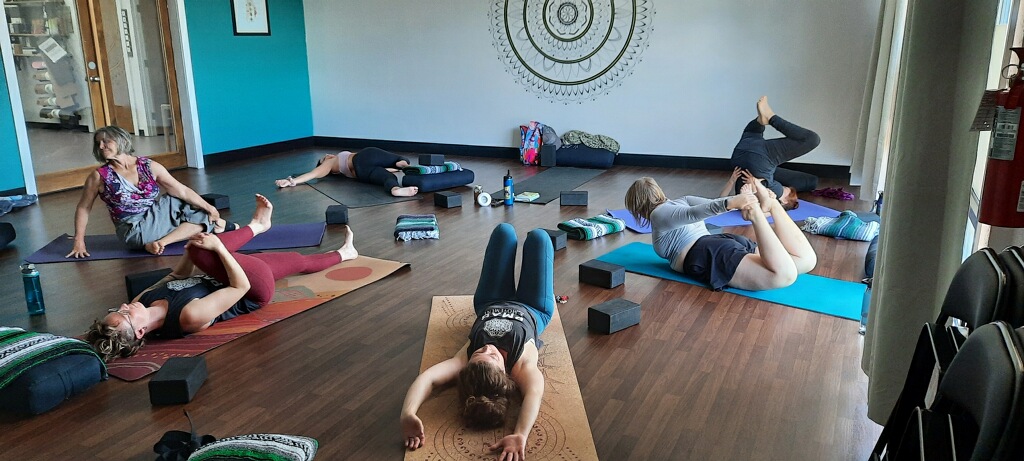 ALL-INCLUSIVE 10-day Retreat includes airport transfers, meals, private room lodging, and ground transportation.
$2199 retreat participant only
$1499 enrolled 300-hr online students
REGISTRATION & QUESTIONS
Fill out the Registration Form.
Call/Text Erika to make payment: 310-989-0878
Purchase your airfare to Durango, Colorado – arrive before 1 pm 8/9
Get Ready for an incredible Retreat!
Not included:
Suggested Books, Journal
Air Transportation
Ojo Caliente Aug 14 – an optional overnight trip to New Mexico (camping $40 or room $215)
Hot Springs Admissions & Spa Services
REGISTER. Local commuters receive a discounted fee without lodging and meals.