200-hr Foundational Yoga Training & Teacher Certification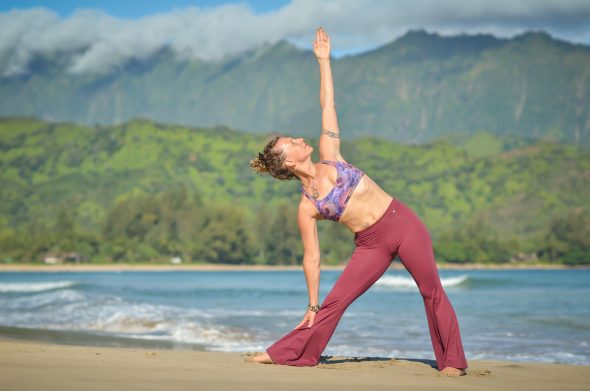 Kauai is a magical, mystical backdrop for our transformational 16-day, 200-hr Yoga Training and Teacher Certification course. If you have been a Yoga student for under four years and haven't taken any official Yoga training or certification course, this is where you want to start. It lays a solid foundation for a future in practicing with grace, respect, and presence. It offers all you need to share the fundamental teachings of Yoga with confidence, ease, and a voice of your own.
Yoga is thousands of years old, with a tremendous body of sacred texts, interpreted by many enlightened teachers, and studied extensively for its timeless healing benefits in college campuses in our modern world. Our signature In-Depth Yoga Study Course materials and Certification curriculum anchors you in the ancient techniques, where you experience them deeply and personally. It is from this level of understanding that you will be inspired to integrate its resonating qualities into your special and unique life story.
Any body can take this course. Literally. From ages 17 – 89, any cultural background or religious upbringing, those recovering from injury or disease, even those living with a chronic condition. Everyone can receive tremendous gifts from Yoga. With Cloud Nine Yoga School, you do not have to be afraid because we are not focusing on burning calories or teaching advanced methods. Our trainers are more like attentive guides, focusing on the meditative and therapeutic aspects of a system that dates back thousands of years. We teach you the basics – things that bring comfort and help unwind the body, mind, and spirit with joy. We create a supportive environment for reflection and self-love.
You will leave our Kaua'i Immersion with a FULL TOOLBOX to live and awaken from – and, of course, simply floating on Cloud Nine.
Erika Faith is in her 21st year training yogis to be magnificent leaders. She has much experience; born out of a passion for bringing Yoga down to Earth while still keeping the traditions intact. As our founder and head instructor, she has clocked in over 40,000 teaching hours in her 25+ years devoted to the yogic path.
We are a Yoga Alliance Registered School with over 20 years experience in training teachers. There are few Yoga Schools or studios that have withstood the test of time like Cloud Nine Yoga.
It is really ALL ABOUT YOGA. Living it. Breathing it. BEing it. We set building blocks for you to ground your own practice. Our team supports you with love, respect, and encouragement. We give you roots so you can spread your wings. As our days together go by, you are groomed to become the informed student, sensitive teacher, and refined yogi that you can feel proud to be.
Cloud Nine Yoga School's 200-hr Yoga Teacher Course curriculum has a uniquely eclectic style that is both playful and deep, flowing and meditative. We fully embrace all levels, bodies, and ages of yoga practitioners. During this incredible adventure in Kaua'i, you will enjoy daily morning yoga practice, workshop style curriculum, peer teaching opportunities, and tropical classroom outings.
Beyond getting certified to teach yoga, this training begins the moment you connect with us. We support our trainees from the first call to years after graduation. Nurturing our graduates and our community is important to us and we take time to bond with each group and develop lasting rapport for years to come.
Let your yoga practice become infused with ALOHA.
If you are coming from anywhere outside Kauai, you will want to plan to stay at an Airbnb or Resort in the Princeville area and rent a car for your own transportation.
Call Erika at 310-989-0878 or email her at: yogaoncloud9@gmail.com to begin your registration process. Kama'aina? Special 'locals only' commuter rates for training courses available.
UPCOMING DATES
We have Open Registration for our scheduled trainings throughout the year until a training is full. We have been selling out months in advance, so applicants are accepted on a first-come, first-serve basis. Our trainings are limited to 11 participants.
** Due to travel restrictions from Covid-19, we have limited our 2020 courses to be FULLY ONLINE. See our schedule and learn about this awesome, affordable opportunity to learn from us at 50% off our usual tuition rates! Students must enroll in 2020 to take advantage of this program.
START & END TIMES
Your Yoga Training begins when you register! You will be assigned some pre-arrival homework, recorded sessions, and LIVE Zoom classes / workshops to prepare.
Yoga Training OMmersions are full days of curriculum, learning, and experiencing Yoga, from approximately 8:00 am – 5:00 pm with Erika and her guest teachers.
Our 2021 Kauai Courses are set up to meet 2 days on, 1 day off, for a total of 16 days of training days.
We end our program with a Dinner Celebration at 6:00 pm on the last full day of the training.
EXAMPLE SCHEDULE
8:00 – 12:00 am Mornings: Practice, Reflection, Lectures
12:00 pm: Blissful Brunch
1:00 – 5:00 pm Afternoons: Anatomy & Asana Intensives, Peer Teaching
What's Included?
Yoga Teacher Education, Certificate, 300+ page Training Manual
Healthy Brunch included on Training Days
REGISTRATION & QUESTIONS
Download one of the following forms: OMmersion-200KauaiApplication2020 (200-hr Training – First Level Certification) & KAUAI-InfoSheetHawaii (for General Information).
Review and fill out the form entirely. You may complete the form online in the .pdf version or scan/photograph the finished pages and submit them via email to: yogaoncloud9@gmail.com
Text or call Erika to begin making payments: 310-989-0878
Once your first payment is made, we will send you a full schedule and logistics letter to review. All payments must be completed in full by the first day of training.
What's Not Included:
Air / Ground transportation, accommodations, or meals
Required Course Materials (books must be ordered/purchased upon registration)
SEE YOU IN KAUAI…