CHADD HOHENSEE, E-RYT 200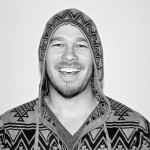 Using personal health and well being as an inspiration to learn the sciences of the body and mind, I explored many in depth trainings through classes, courses, books, and videos, even journeying great distances to mystic locations like Thailand, Jamaica, and Belize to deepen my search for both, self and shared healing experience. With my knowledge and a compassionate outlook, I enjoy spreading the message of healing and growth to friends, clients, and loved ones in any way I am capable.
Chadd Hohensee, E-RYT 200 is a Yoga/Meditation Instructor with 4 Years experience and over 200 hours of Thai Yoga Therapy Training. Certified in the Northern Thai Style, with over 2 years experience and a Certified Personal Trainer with 5 years experience.