As winner of Los Angeles Music Awards' Singer/Songwriter of the Year, Larisa Stow is known for her thought-provoking, soul-searching lyrics and haunting melodies. Most recently, her passion to integrate the sounds of popular music, world-based rhythms and melodies with the ancient form of Kirtan, devotional call and response music, has driven her to collaborate with Grammy award-winning producer and songwriter, Rick Hahn (Celine Dion). The magic of that union resulted in a compilation of engaging Kirtans that are a seamless blend of east meets west.
"I believe that music is the bridge that brings us together. Music is the first place we start celebrating each other's cultures. When I integrate sounds from another culture, I feel like I am embracing it" declaring our oneness." ~ Larisa Stow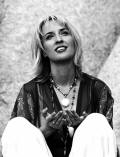 Just prior to her work in the studio with Rick Hahn, Larisa produced an album of spiritual kirtans featuring top-selling author, Thomas Ashley Farrand ("Healing Mantras"). Her work with this ancient form of music that many have termed "sacred music" along with her continued desire to bring the worlds of popular music together has made collaborating with Rick Hahn a compelling venture. As Bernard Bauer of Music Connection says, "This is music that touches the heart. Larisa will move your emotions- not with a shove- but with a caress."
Larisa brings that same magic of spirit to her live performances. "Performing live is my favorite part of being an artist. I love connecting with a live audience and the exchange of energy that happens "the drama of it all." Larisa is warm and engaging";she has this amazing gift for making you feel like you're an old friend, even though she's never met you before. Whether she's in front of an intimate audience of 30 or 1,000 she's got this great gift to reach out, touch you with her lyrics and make you want to dance at one moment or sit in your seat and cry in the next. She takes her audience on an emotional journey that they seem so glad to go on with her".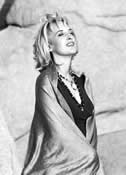 Larisa and her band provide an unforgettable unique experience that leave an audience feeling the magic of her music. After watching Larisa perform recently, Terri Nunn of Berlin hopped on stage and declared, "This is the music of the future!" Prior to her work with Rick Hahn, Larisa Stow teamed up with legendary producer David Tickle (U2, Sting, The Police, Peter Gabriel, 4 Non Blondes) and DTS under a special recording agreement to create the first original album featuring 10 of Larisa's compositions for 5.1-Channel Surround Sound. Supported by DTS's new company-owned entertainment label, Larisa hit yet another milestone with the release of a DVD-A version of the critically-acclaimed album "Moment By Moment" which contains a video of her song, "Heaven."
Larisa's focus on the world does not end with her music. She is an artist committed to giving back in a big way. "Gandhi's teachings have left an indelible imprint on my heart. 'Be the change you wish to see in the world' is one of his most beautiful and inspiring teachings that I attempt to put into daily practice."Larisa intends to give the majority of profit of what she earns through her music to charities and foundations around the world. Larisa Stow is a unique artist who's got vision and passion not only for her music, but for the world around her.