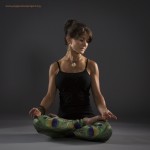 At the age of 28 I became an ACE certified fitness instructor, teaching aerobic and strength training. I stumbled over yoga during a fitness training event and quickly became an avid practitioner. I earned my 200 hour RYT in 2004 and have attended workshops with some of the great Western Teachers including Seane Corn, Shiva Rea, Barron Baptiste, Judith Lasater, Gary Kraftsow, Mark Whitwell and many others. I have also had the opportunity to train with the grandson of the greatest Guru from whom came many present day schools of Yoga – Krishnamacharya. I am currently working on my 500 hour RYT in Rod Stryker's ParaYoga program and will be making my first pilgrimage to India in April.
Yoga and meditation have presented me with many gifts through my years of practice, often providing me with the tools I have needed at exactly the right time. I began studies with the Tibetan Buddhist group Tergar Meditation in Madison in 2012 and have developed a strong meditation practice using the principles they teach. I am grateful for this practice as it assisted me in many ways during my diagnosis, treatment, and recovery from breast cancer in 2013. My journey has provided many life lessons and countless gems … all of which I attribute to my dedication to the practice of yoga and meditation.
My teaching style is greatly influenced by the Yoga Sutras and I instruct with the ancient scriptures always in the forefront of my mind and heart. I teach two styles of Yoga: a Yin style that emphasizes holding poses, and a Vinyasa style that stresses movement with the breath.
I am also a Level I Certified Yamuna Body Rolling instructor. I earned my certification with Yamuna in 2003. Yamuna Body Rolling™ is a revolutionary approach to health and fitness using balls designed exclusively for this practice.