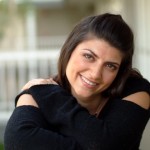 I have been studying dance, flexibility, and movement since my first ballet class at 12 years old. For a long time, I couldn't seem to decide which kind of movement I loved best, but after multiple explorations into Ballet, Jazz, Tap, the martial arts, as well as acupressure and shiatsu massage training, I discovered and fell in love with Sensual Movement, Pole Dancing and Yoga. In 2003, I began attending Yoga conferences everywhere I could find them and Sfactor, a groundbreaking program of sensual movement for woman. I quickly realized that teaching sensual dance and yoga gave me a deep sense of joy and passionate fulfillment. I knew that this was my calling. So, with a focus on student safety, aerial transitions, and authentic sensuality, I began my studies in 2004 with the Urban Fertility Dancer teacher training program for Pole & Sensual Dance. After a year of intense study, teaching and mentoring, I completed the advanced PoleCat Power and SlinkyCat Power instructor programs in 2005 and became a Pole Dance Teacher Trainer in 2006. I also managed to pick up my AFAA Group Fitness Instructor certification along the way.
But I couldn't stop there. I had to have more, and while following my love of holistic healing practices, I attended a Reiki 2nd Level Practitioner Certification with the Cloud Nine School of Yoga. After experiencing the amazing energy of Erika Faith and the CNY teachers, I knew I had finally found my tribe. When Erika invited me to deepen my understanding of Yogic movement and spirituality with the 500 Hour Yoga Teacher Training, I was more than ecstatic to accept. I feel deeply blessed to be teaching yoga every day since.
I believe in combining intuitive movement and playful Yoga Asana to create holistic body balance. In my classes and my life, my focus is on being present with the body and experiencing the sensual dance of life itself. I have been teaching Dance and Yoga for over 6 years, and specialize in Beginner Yoga, Liquid Yoga For Women (my own special fusion of yoga & dance), Booty Popping, and Sensual Pole Dancing.