Simon "Karta" Ballard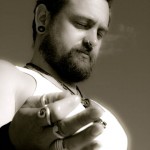 Has been teaching Yoga since 1999, He has vast knowledge and experience in various yogic traditions include the yoga styles of Kundalini, Yin, Vinyasa, Restorative, and Bhakti Yoga. As well as Meditation, Pranayama, Mantra, Ayurveda and Sound Vibration Therapy. He incorporates breath exercises, static postures, flow sequences, inspirational and live music, conscious poetry, light meditation, and Divine guidance, weaving a yogic journey accessible at all physical and spiritual levels.
Simon blends the sacred practices of Ayurveda, Pranayama, Meditation, the Ancient Sound Vibrations of the Gong, Tibetan and Indian Singing Bowls, Yogic Philosophy, and the many Transformational Modalities of Yoga. Artist, musician, Traveller and poet, Simon will be your guide on a transformational journey beyond your physical body, guiding you deep into the realms of the energetic, intuitive, subtle mind, taking you to a place of peace, love, surrender, stillness, and physical bliss.