Terra Ann Pracht, E-RYT 500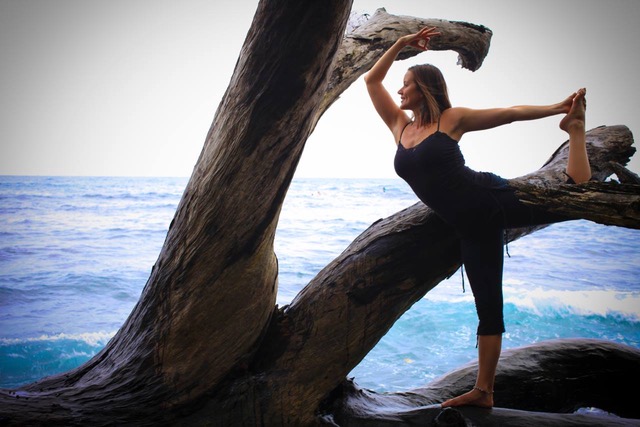 Terra Yoga…To Ground and Grow.
Aloha! Here in Hawaii, I am a Yoga Alliance Registered Yoga Teacher, Yoga Instructor Trainer (E-RYT 500), a certified Colon Hydrotherapist through Intentional Health Hawaii, Inc., and formerly of Hawaiian Sanctuary, ten-year Founder and Director of the Wellness Retreat Center and Educational non-profit, 501c3, in Sustainability. I love to teach all styles of yoga, especially Gentle and/or Stronger blends of Flow, Yin, Restorative, and all styles that invite the underserved community into yoga. Yoga is for EVERY body and I feel so happy to share that space with you.
During the last ten years, I enjoy producing next level health retreats, have created community internships on a permaculture farm, guide cleansing programs, facilitate yoga workshops, and train people to become yoga teachers through the Hawaii Branch of Cloud Nine Yoga Studio & School, nationally recognized by The Yoga Alliance. My life's path is unfolding to utilize my business sense and promote my passion for the healing arts. I am living an epic adventure and feel stoked to share with YOU!
"Terra Ann has the most intimate way of relating as a yoga teacher. She fully participates with ones needs in a way that is fun , sensual, and fully compassionate to ones being" – Dawn Hurwitz
I have been a practitioner of Body Science & Mind integration since the early 90s. Back then at Penn State University, I was a 2-year captain and All-Big Ten shortstop for the Women's Softball Team, where I earned my Bachelors of Science in Business & Marketing. The study of Sports Psychology developed a love for visualization with measured results — my stats literally jumped 25% with a daily 15-minute meditation on visualizing EpiC athletic movements and massive team successes.
Post collegiate athletics, B.K.S Iyengar became my yoga coach until a reunion on Cloud Nine occurred with Erika Faith and her tribe of yogis. Formal education and RYT certification ensued, along with producing a Yoga DVD in Costa Rica, Reiki attunements and group Liver Flushes. Additional favorite teachers of consciousness are: Julian Walker, David Wolfe, Anahata Ananda, Gabriel Cousins, Baba Dez, Puma St. Angel, Paul Eagle Bear, Earth, Air, Fire, and Water.
Join me for a mind, spirit and body cleanse: on the yoga mat, the earth of a sweat lodge, the hydrotherapy table, alone or with your favorite people enjoying a retreat in Hawaii. Healing touch, aromatherapy, intentioned speech and big bellied laughter will energize our shared dreams. Each cleanse and class is specific to the present students and their needs, which means no class is the same! Come to rejuvenate the body, quiet the mind, and revitalize the heart space.
I love this life! Yoga and Cloud Nine has offered the freshest spin on my American Dream. I've created the life of my dreams, am exploring the world's most amazing eco-cultures, fueling on the best foods this planet has to offer, while building heart connections, health transformations and take home education. Whether it's a moment, a season or a lifetime, in the name of health and vitality, I am here To Gather ToGether. THIS OR SOMETHING BETTER, THY WILL BE DONE.
With much Aloha,
Lovely Terra Ann
"Terra's morning class was lovely. I have been doing yoga for years, yet couldn't get my husband to join. He's now taken every morning class and says his back feels better than it has in years. Thank you!" — 2016 Tiger 21 Retreat Guest