Couples. We are each other's friend, lover, companion, and mirror. Many days go by when the responsibilities of life may come between us and the one we have committed our heart. Yes, we continue to stand next to our partner through thick and thin — yet, always need a dose of BLISS to make up for it!
Let the BELOVEDS come out and play.
The one you fell in love with in the first place is still there. Of course we have to pay the bills, take care of our sick kids or parents, go to work somedays for way too long… So, we must make some time. Put it on the calendar. Fun.
Just a few short hours to water the LOVE that put the ring on your finger or the spring in your step.
Beginner Friendly ~ lots of yummy poses to do together to feel the intimacy of together forever!
When? MARCH 10
Time? 2 – 4pm
Where? Cloud Nine Yoga in Temecula
Cost? $25 per person ($50 couple)
Who's teaching? Adam & Erika Calig, owners and BELOVEDS of Cloud Nine Yoga
———————————————————————————————————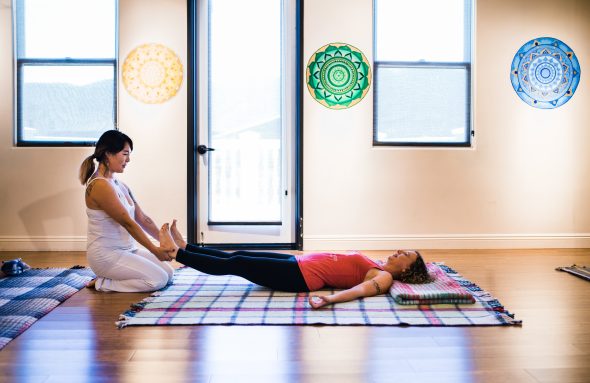 THAI YOGA MASSAGE
Next Playshop TBA 2018
Broaden your knowledge of the body, massage techniques, and non-verbal communication skills. Find ways to reinvigorate relationships, friends and family alike, using the language of sensation and feeling.
In this PLAYshop, you will learn assisted yoga stretches and therapeutic Thai Yoga Massage techniques that can be done by and for most people, helping you to develop a healer's hand without requiring any prior experience of Yoga or massage.
Experience both giving and receiving of this ancient medicinal practice that not only relaxes, but re-energizes to the core.
Instructors demonstrate each move, verbally and visually directing the group through an easy-to-learn sequence of moves.
A blissful way to spend an afternoon in our beautiful studio ~ partner not required!
Register Online